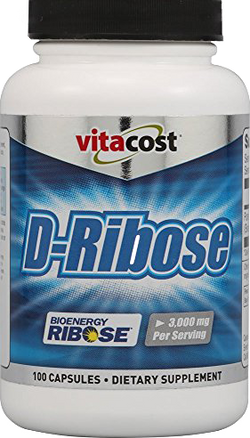 Vitacost
D-Ribose Bioenergy
Vitacost D-Ribose Bioenergy Ribose® 
Helps naturally restore the body's energy levels after exercise.* Supports muscle recovery and cardiovascular health.*
What is D-Ribose?

D-ribose is a naturally occurring sugar used by every cell in the body.* It's an essential compound in energy metabolism that serves as a building block for adenosine triphosphate (ATP)—the body's basic energy source.* D-ribose is also the backbone of genetic material, DNA and RNA.*
How does Vitacost D-Ribose support health?
Supports healthy energy production at the cellular level.*

Promotes recovery after sports stresses.*

Supports a healthy cardiovascular system.*

Contributes to the function of mitochondria.*
Why choose Vitacost D-Ribose?
Available in easy-to-take capsule form.

Exceptional quality at an extraordinary value.
About Vitacost
Vitacost nutritional products are manufactured to high standards of quality, efficacy and safety. Each Vitacost product meets or exceeds the standards and requirements set forth in the FDA's Code of Federal Regulation (21 CFR, 111) Current Good Manufacturing Practices (CGMP). 
*These statements have not been evaluated by the Food and Drug Administration.  This product is not intended to diagnose, treat, cure or prevent any disease.