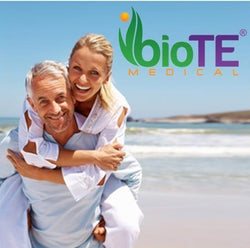 Conklin Clinics
BioTE Procedure
BioTE® provides patients with natural, bio-identical hormone optimization tailored to each individual. In addition to hormone optimization, our certified practitioners assess serum vitamin levels to create a comprehensive, individualized plan of care for each patient. Our integrative approach to health promotion and disease prevention is like no other and we are proud to offer it right here in Aberdeen, South Dakota!

As we reach the age of 30, our hormone production decreases by about 3-10% each year, making it harder to fight age-related illnesses, such as osteoporosis, Alzheimer's disease, heart disease and diabetes.
Hormone pellets release bio-identical hormones into the bloodstream continuously resulting in a steady state of hormones. Because the pellets are implanted you are guaranteed to be 100% compliant leaving you happier and healthier than you ever thought possible!