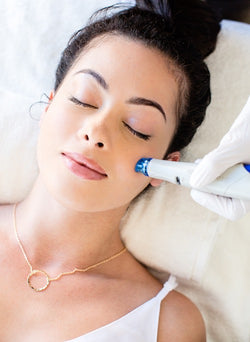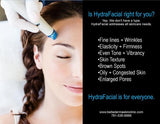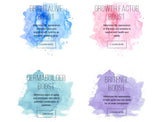 Conklin Clinics
HydraFacial MD
HYDRAFACIAL MD 
Hydrafacial MD is a non-invasive skin treatment using a series of steps to combine the use of hydradermabrasion, a chemical peel, and extractions with no irritation. The multi-step system delivers antioxidants, hyaluronic acid, and peptides into the skin making it a quick treatment with no downtime.
BENEFITS
ONE OF A KIND SYSTEM
The system is a multi-step treatment using a unique Vortex-Fusion serum delivery. The system evenly exfoliates and extracts to remove impurities and dead skin cells while replenishing the skin with vital nutrients.
FOR ALL SKIN TYPES
The treatment can be customized to safely and effectively address your specific skin concerns. It is great for fine lines and wrinkles, age reversal, brightening, oil/congested, and sensitive skin.
LITTLE TO NO DOWNTIME
With the unique delivery system it helps to fight environmental damage, reduce fine lines and wrinkles, and plump skin. It is non-invasive that uses patented technology without downtime or irritation.


CONDITIONS IMPROVED BY HYDRAFACIAL MD
Redness
Pore Reduction
Dry & Dull Skin
Plumps Skin
Texture