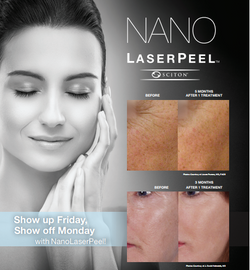 Conklin Clinics
Nano Laser Peel
The Nano Laser Peel uses light energy to instantly remove the top layers of the skin at a depth that simultaneously accelerates the skin's own renewal process by activating special messenger cells. 
REMOVE FINE LINES, WRINKLES, AND DULL SKIN
The Nano Laser Peel is an intraepidermal laser peel that precisely removes the outermost layer of the skin. A laser beam is scanned across the treatment area of the skin and precisely removes a layer of the skin. The body will naturally replace the old, damaged skin that was removed, with a fresh, healthy layer.
TREATS PIGMENTED LESIONS/IRREGULARITIES, SCARS, FRECKLES
Pigmented lesions can be removed by full-face or spot-treat superficial resurfacing. There is an immediate change in skin texture and tightness which gives a smoother, healthier, more vibrant glow to your skin!



CUSTOMIZE YOUR SERVICE
Treatments can range from shallow to deep. Shallow treatments are typically appropriate for eliminating fine lines, sun spots and tired-looking skin. Deep treatments are typically appropriate to improve skin tone/texture and eliminate deep wrinkles, even in difficult areas like upper lip lines and crow's feet.