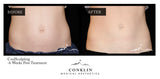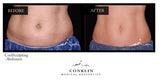 Conklin Clinics
CoolSculpting
CoolSculpting is priced by the Cycle. There is a discount for purchasing more cycles. Prices reflect that discount (up to 20% off). For purchases greater than 15 Cycles, please contact us the clinic at 605.725.4772.
COOLSCULPTING + ZWAVE 
The CoolSculpting procedure is the world's #1 non-surgical fat reduction treatment. It is a comprehensive system that reduces stubborn fat safely and effectively, without needles, surgery, or downtime. This innovative fat reduction treatment is the only FDA-approved procedure to use controlled cooling to safely target and reduce diet and exercise resistant fat. During this process, treated fat cells are crystallized. Over time, your body naturally processes the fat and eliminates these dead cells, leaving a more sculpted you. 
ZWAVE: ACOUSTIC WAVE TECHNOLOGY
CoolSculpting + ZWAVE is an advanced protocol that combines CoolSculpting with acoustic wave technology that can dramatically improve results of traditional CoolSculpting while reducing discomfort and swelling post-treatment. Patients who receive ZWAVE, in addition to CoolSculpting, have seen up to 60% better results than CoolSculpting alone.